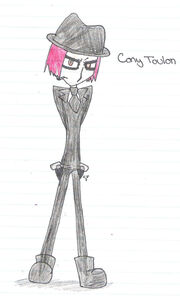 Gunner
is a 20 year old female firearm puppet.
She has the soul of Cony Toulon.
Orriteation
Edit
She has straight and fighting skills.
Friends and Family
Edit
Her only friends and family is Courty, Tex, Blade, Pinhead, Jester, Tunneler and Six-Shooter.
Her enemies is Junko, Kiki, Demonic Toys and the Nazis.
Relationship
Edit
She has a Crush on Six-Shooter.
Personality
Edit
She is Quiet, Short tempered, Sarcastic, Kind (at times), a bit on the wild side.
She likes Dark places, smoking, reading certian books horror novels and hates Fire places, storms-she's scared of thunder.
Her flaws is Uncontrolable trigger finger, poor eye sight.
She uses Any and all firearm Weapons.
Cony was once a regular human but when mudered by someone or something her uncle, Andrew Toulon,made her into a puppet.However her puppet form got her 'other' personality. Her family now consists of the puppets Courty and Tex. Two puppets which she made when she was a human. Her other eye that has no pupil was a mistake by her uncle. He didn't notice it till after he brought her to life.